Business with less than 100 employees
Winner: Osher Lifelong Learning Institute (OLLI)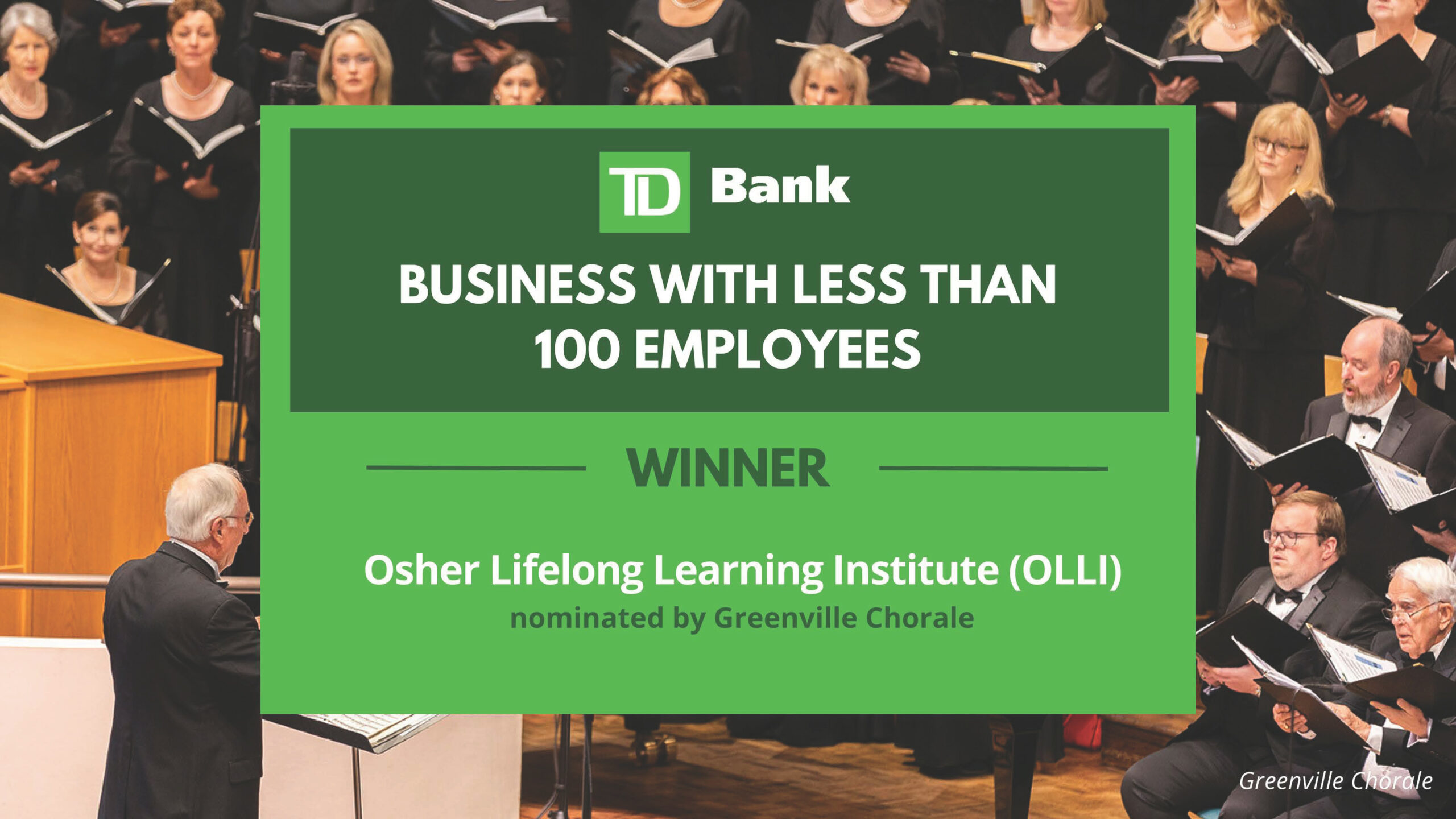 Nominees: Acumen IT, LLC, nominated by The Warehouse Theatre; The Capital Corporation, nominated by Artisphere; Community Journals, nominated by Greenville Symphony Orchestra; Fetch, Inc., nominated by South Carolina Children's Theatre; Hartzell & Associates, Inc., nominated by Greenville Theatre; Salem Media Group, nominated by Centre Stage; Womble Bond Dickinson, LLP, nominated by Peace Center
Business with more than 100 employees
Winner: Piedmont Natural Gas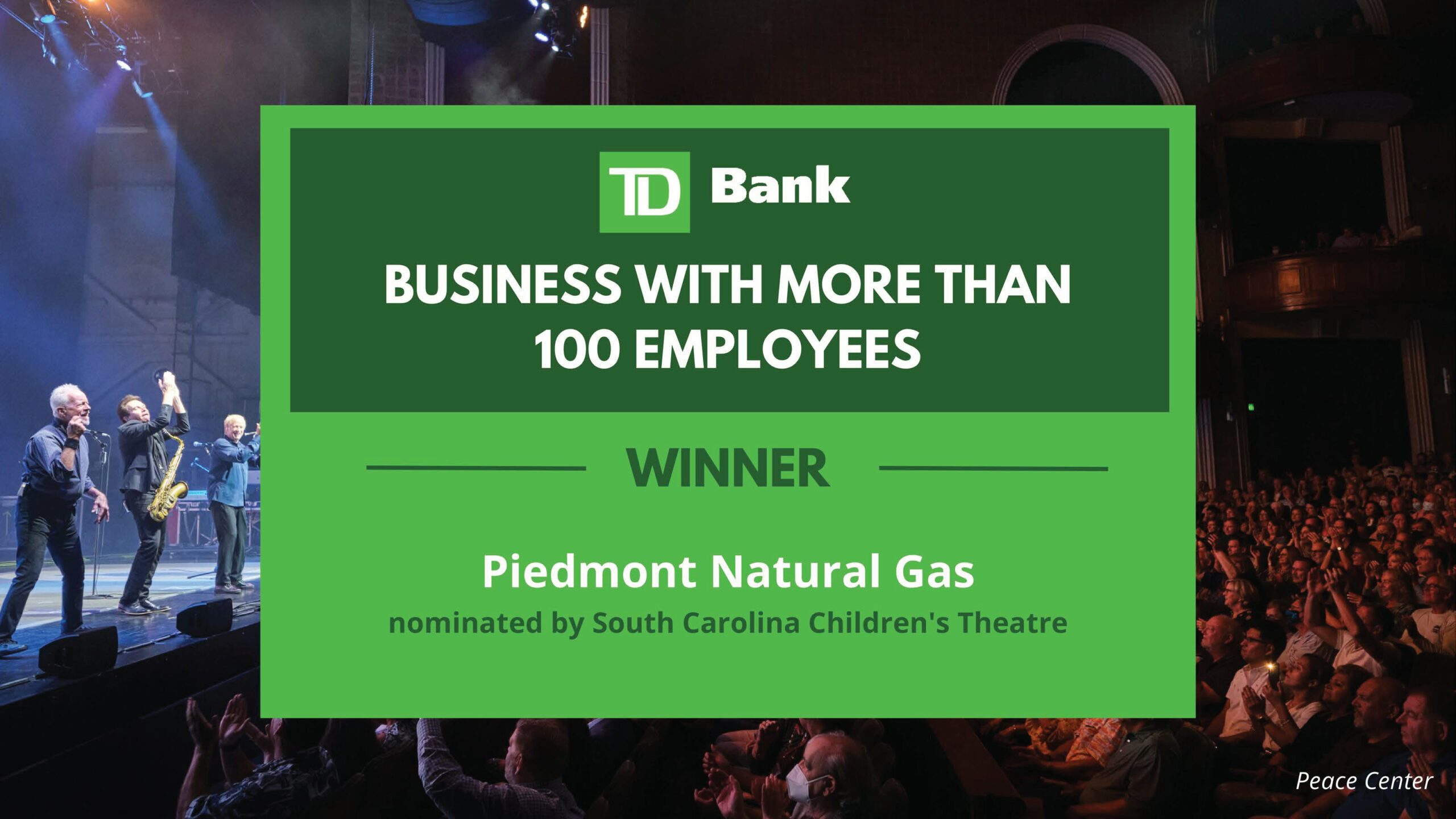 Nominees: BMW Manufacturing Company, LLC, nominated by The Warehouse Theatre; Coldwell Banker Caine, nominated by Artisphere; Southern First Bank, nominated by Centre Stage and Peace Center; The Spinx Company, nominated by Greenville Symphony Orchestra; Woodlands at Furman, nominated by Greenville Chorale
Put Your Heart in the Arts Volunteer of the Year
Winner: Keith Goodall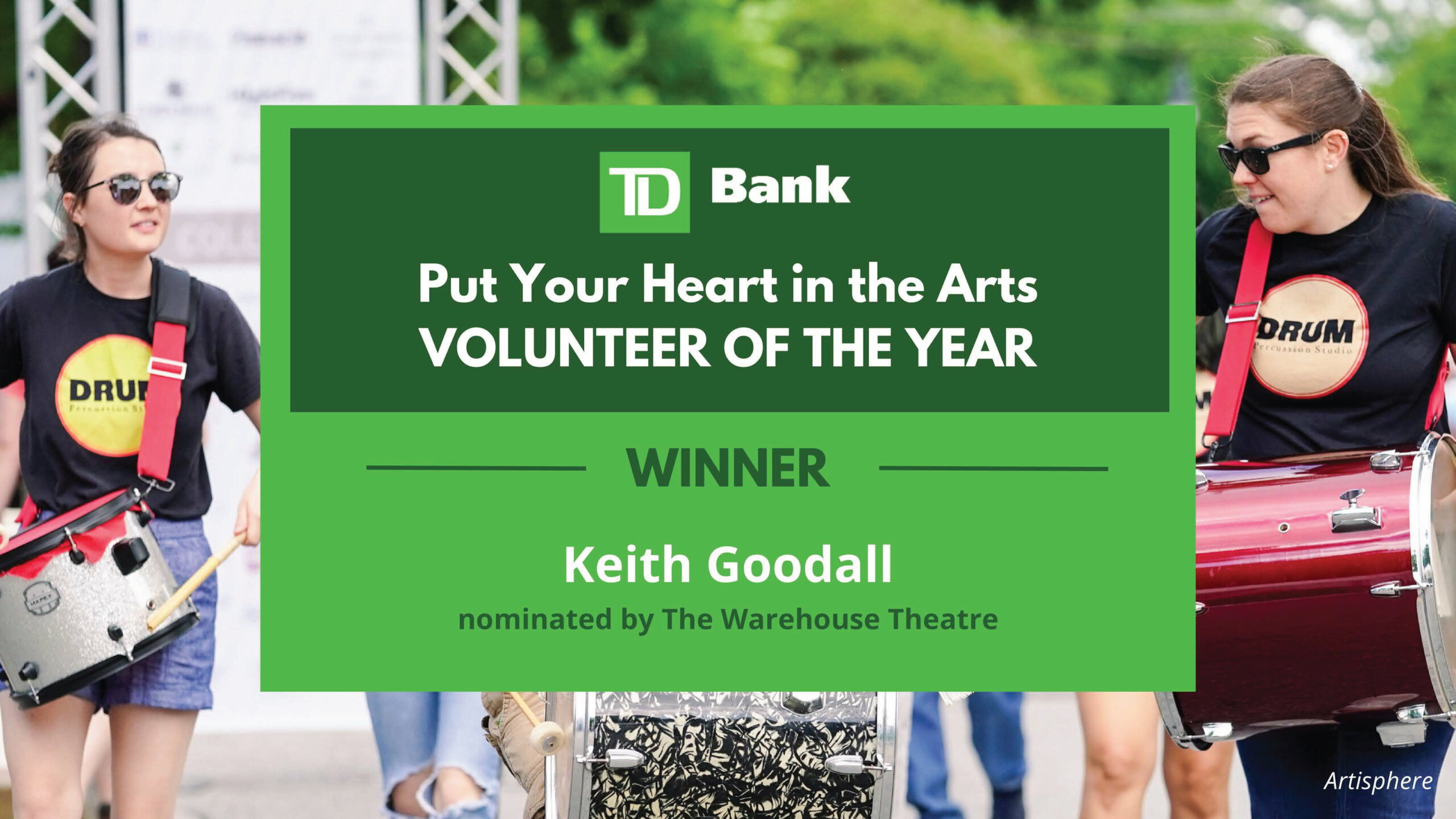 Nominees: David Beard, nominated by Artisphere; Wayne King, nominated by Greenville Chorale; Bud & Kristin Shevick, nominated by Greenville Theatre; Alison Stefanov, nominated by Centre Stage; The Shurley Family, nominated by South Carolina Children's Theatre; Brittany Timmons, nominated by Greenville Symphony Orchestra; Beverly K. Whitten, nominated by Peace Center
MAC Board of Directors Awards
Edith Hardaway, Chris Kavolus and Kelly Odom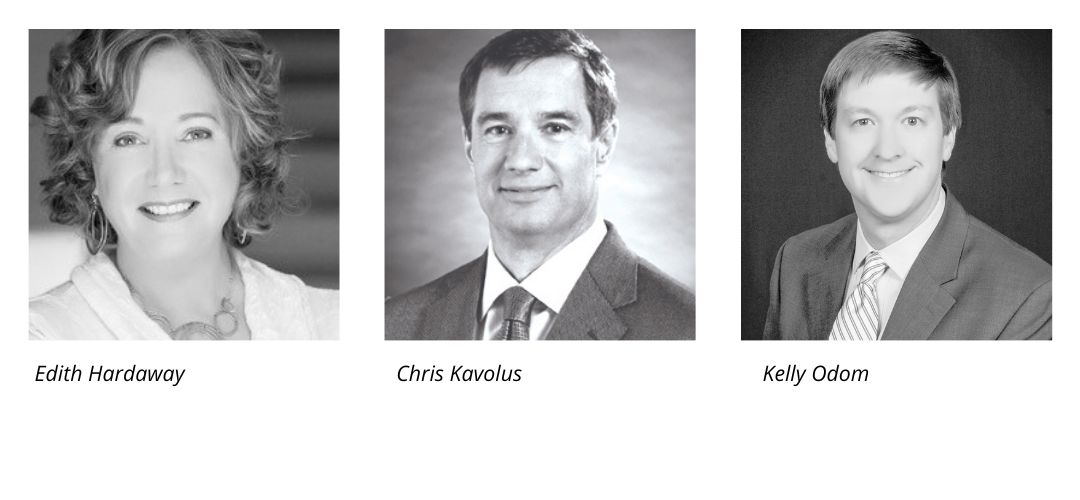 MAC is very grateful for the generous financial support provided by board members Edith Hardaway, Chris Kavolus and Kelly Odom. These three individuals have been outstanding assets to the organization and have served as strong advocates of MAC's programs and services throughout the Greenville community.
Carrie and Skip GordonTeaching Artist Award
Winner: Jess Stone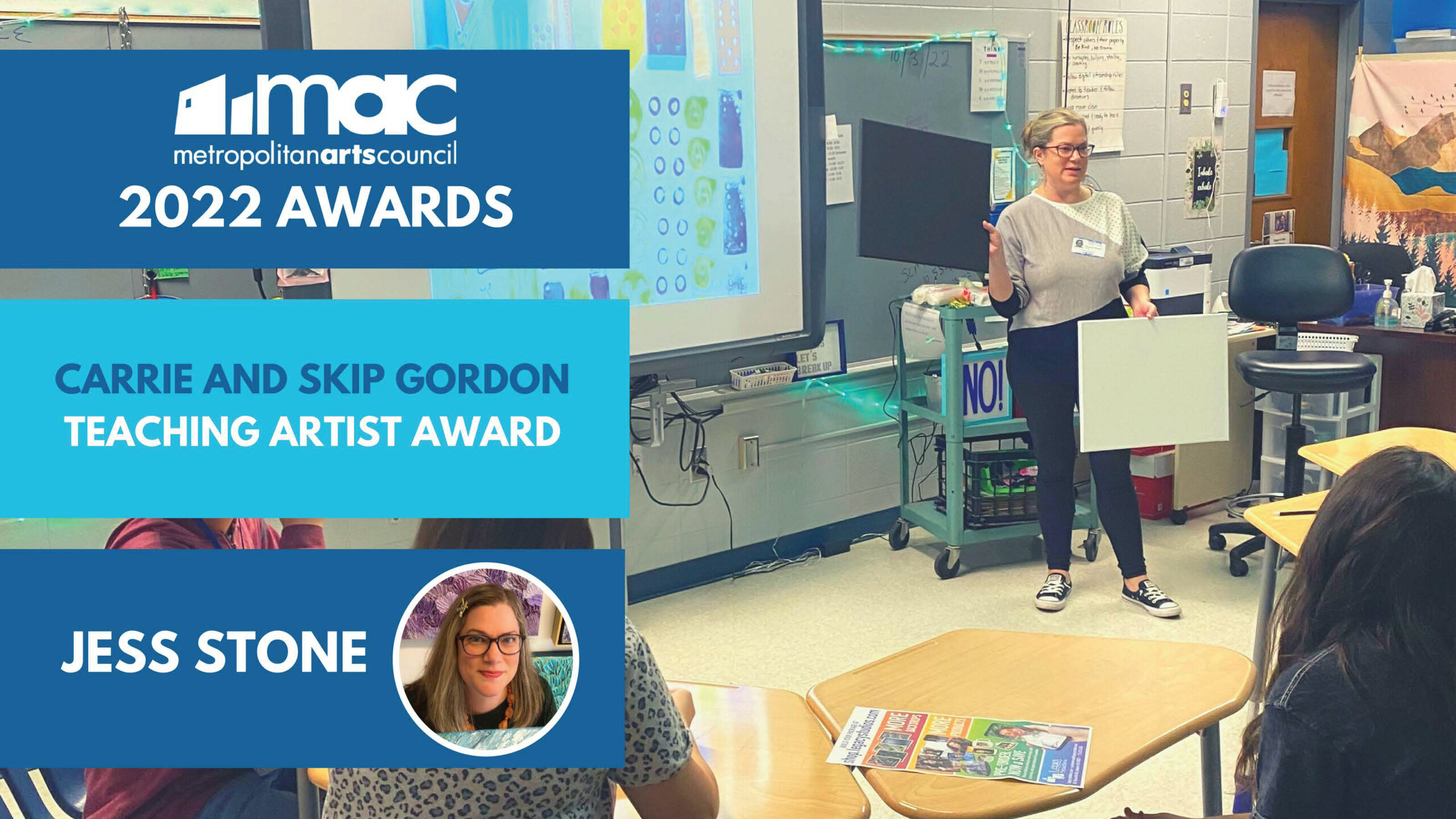 This annual award recognizes the outstanding artistry and educational practice of one exceptional Greenville artist who impacts and inspires the lives of students through their work in local schools. This award includes a scholarship to attend a national professional conference with a focus on both the arts and education. The 2022 recipient is Jess Stone.
A SmartARTS Teaching Artist, Jess Stone is a mixed media artist who is a mother, artist, teacher and wife. Jess started teaching art in high school at local art camps and then went on to receive her BFA from Clemson University and her MFA from Memphis College of Art in Memphis, TN. Jess was accepted to the South Carolina Arts Commission's teaching artist roster which allowed her to travel the state teaching printmaking, papermaking and bookbinding to K5-12th grade in various school districts. She is also a SC certified art teacher and has taught at elementary schools as well as at both Converse College and Anderson University. Currently Jess works full time as an artist and mother, while continuing to work with the SmartARTS program.
Carrie and Skip Gordon Emerging Teaching Artist Award
Winner: Cecily Witcher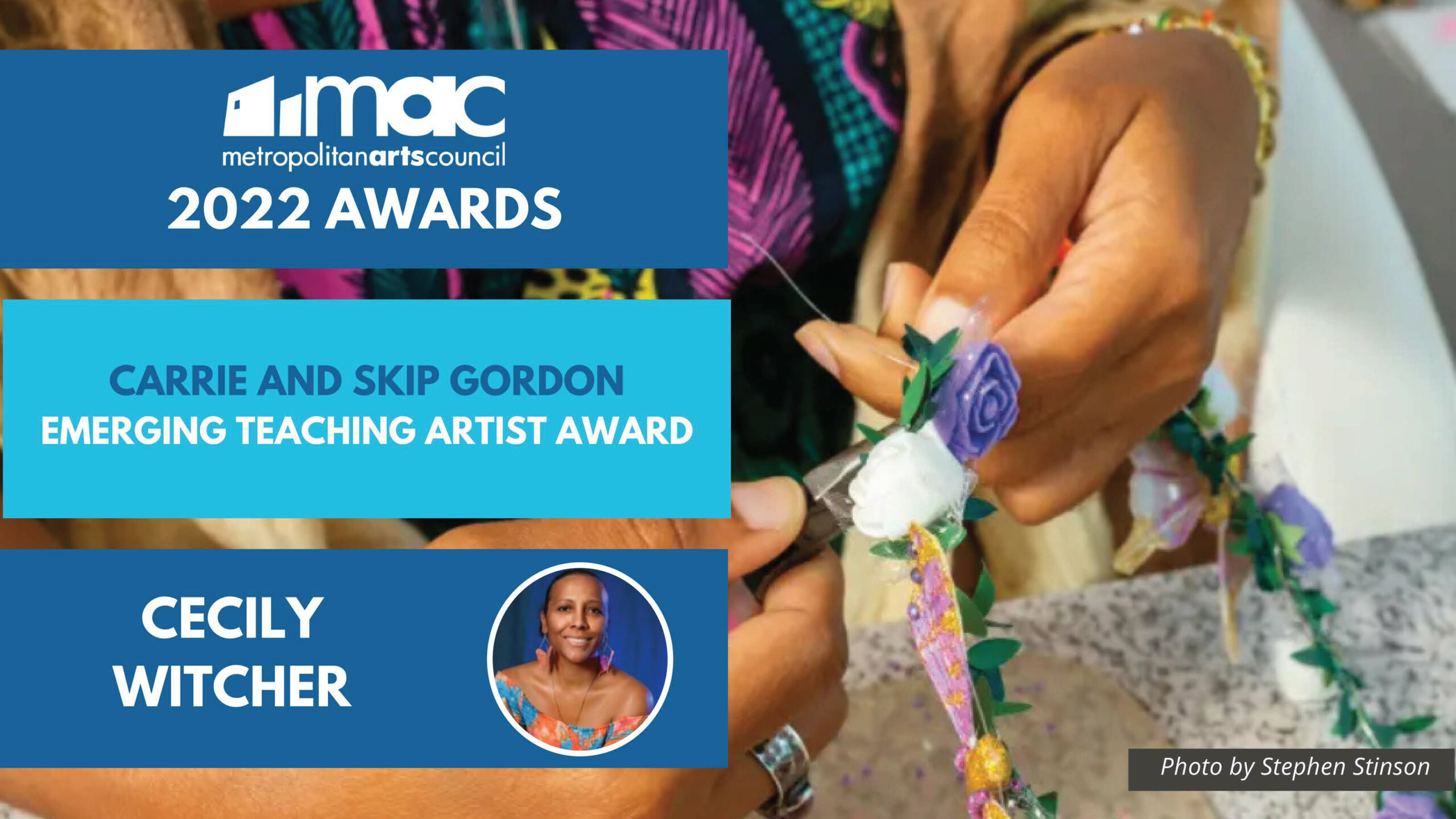 This award recognizes a Greenville artist who shows great promise in his/her artistic and educational practice to impact and inspire the lives of students. This award includes a scholarship to attend a national professional conference with a focus on both the arts and education. The 2022 recipient is Cecily Witcher.
As a SmartARTS Teaching Artist, Cecily Witcher describes herself as a visual artist, public speaker, curator and world traveler. With more than 10 years of experience, Cecily has worked with such organizations and brands as Patricia Field, Sean Puffy Combs and NBC. Her work has been spotlighted on the television show Younger and in various magazines as well as several New York galleries and boutiques. Since relocating to Greenville, Cecily has fully immersed herself in the art scene. In a very short time she has grown into a trailblazing artist who prides herself in sharing the opportunities and knowledge that she has with other fellow artists. Cecily received the honor of being one of Greenville's 25 most beautiful women. Cecily currently sits on the Upstate Pride SC Board as well as the Juneteenth GVL Board.
The SEW-Eurodrive Minority Teaching Artist Fellow
Winner: Moody Black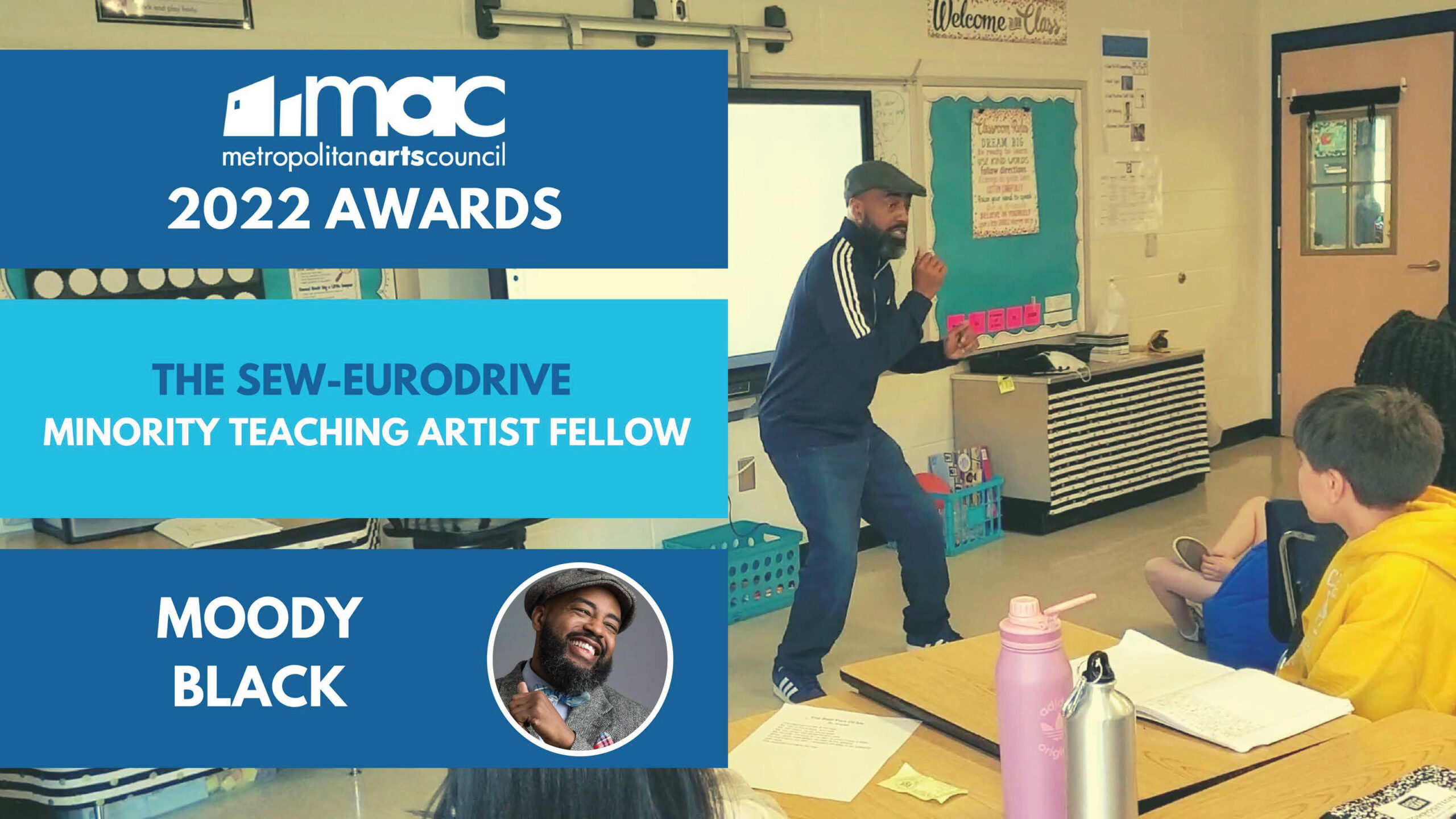 This award recognizes the outstanding artistry and educational practice of one exceptional Greenville minority artist who impacts and inspires the lives of students through their work in local schools. This minority artist will lead a Cultural Competency workshop at the 2023 SmartARTS Education Institute sponsored by Prisma Health as part of SmartART commitment to inclusion and diversity. The 2022 recipient is Moody Black.
A SmartARTS Teaching Artist, Moody Black has been a performing artist since the age of 12 has become a prominent force on a multi-regional poetry scene through his enthusiastic live shows and strong work ethic. Moody has a created a buzz with awards such as 2020 Upstate Music Awards- Artist of the Year, 2022 Black History Pioneer from 96.3 The Block, and 2022 Spoken-Word Artist of the Year from Southern Entertainment awards. He is a spoken word artist, actor, visual artist, comedian, TEDx performer and the artistic director and host for Wits End Poetry, as well as a teaching artist throughout the state.
Carl R. Blair Educator Award
Winner: Harry Culpepper, Jr.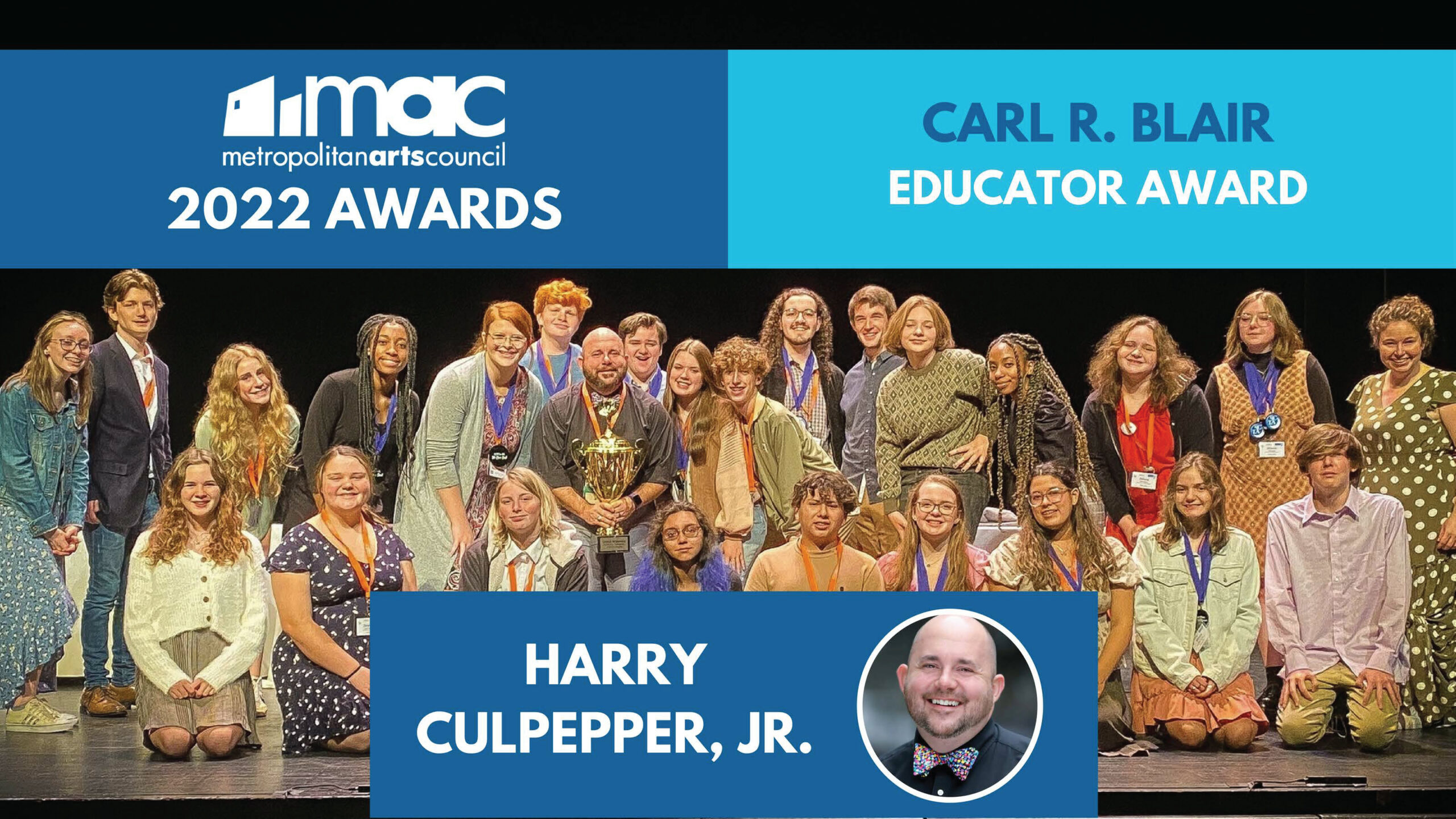 The Carl R. Blair Award for Commitment to Arts Education is given annually to an arts educator to honor the life of professor, arts advocate, and Greenville artist Carl R Blair. The 2022 recipient is Harry Culpepper, Jr.
Harry Culpepper, Jr., originally from Belton, SC, started his career as a professional actor with reputable companies such as Playhouse on the Square, Shenandoah Summer Music Theatre, The Warehouse Theatre, SC Children's Theatre, Spartanburg Repertory Company, Spartanburg Little Theatre, Main Street Youth Theatre and SC Repertory Company. He has directed productions for the Spartanburg Youth Theatre, Spartanburg Repertory Company, Greer Children's Theatre, Main Street Youth Theatre, and more. He began his teaching career by establishing the theatre program at the SC School for the Deaf and Blind and then spent 8 years as the theatre teacher at the Hilton Head Island Elementary School for the Creative Arts, being named a Kennedy Center National School of Distinction in Arts Education, and Hilton Head Island High School. He now serves as one of the co-lead theatre teachers for Greenville County Schools and holds an MFA in Arts Administration from Winthrop University. He recently was elected the SC Chapter State Director for SC Thespians/Educational Theatre Association. In his time at Woodmont, the Wildcat Players have won two State One Act Championships, and multiple state-level awards. In 2018-19 they were named one of the top 4 High School Theatre Programs in the nation by the Educational Theatre Association.

Truman Henderson Award for Excellence in Grant Writing
Winner: Sigal Music Museum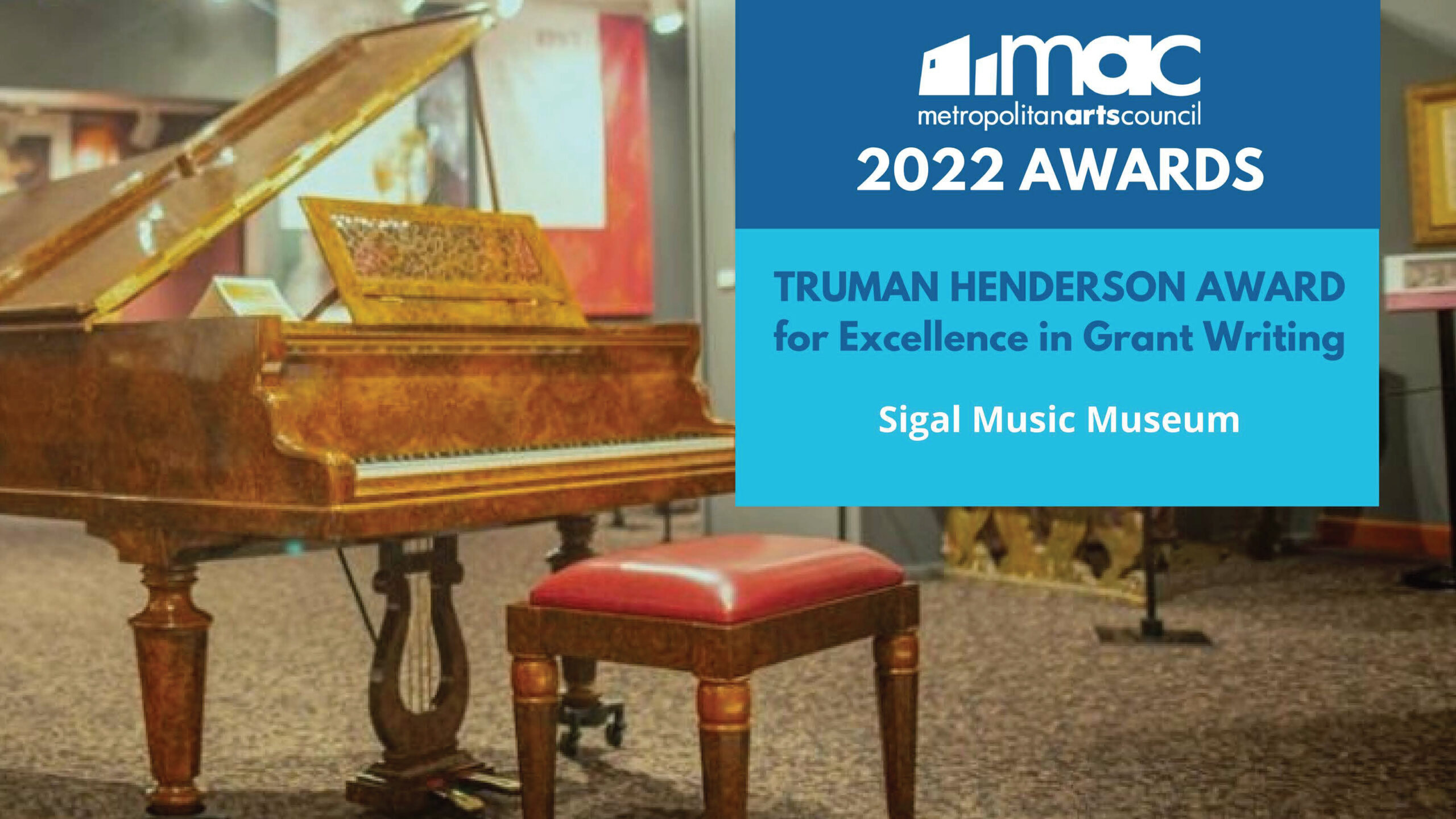 Truman Henderson had served on the MAC Board of Directors and was Co-Chair of the grants committee for over 20 years. He left us in 2022, and he will be greatly missed. In his leadership of the grants panel, Truman practiced extreme fairness, inclusion and professionalism. He was absolutely committed to ensuring the quality of grants that MAC funded, and he was a stickler for proper grammar and syntax. It is our privilege to award $1,000 as the inaugural Truman Henderson Award for Excellence in Grant Writing to Sigal Music Museum.
In November 2022, Sigal Music Museum submitted a grant request to MAC to purchase essential recording and computer equipment to collect digital samples of the historic and culturally significant instruments in the museum's collection. The samples can then be used for educational purposes at no cost through an online archival system. This grant received a perfect score of 100 from the November grants panelists.
Ann C. Sherard Young Supporter of the Arts Award
Winner: Jason Richards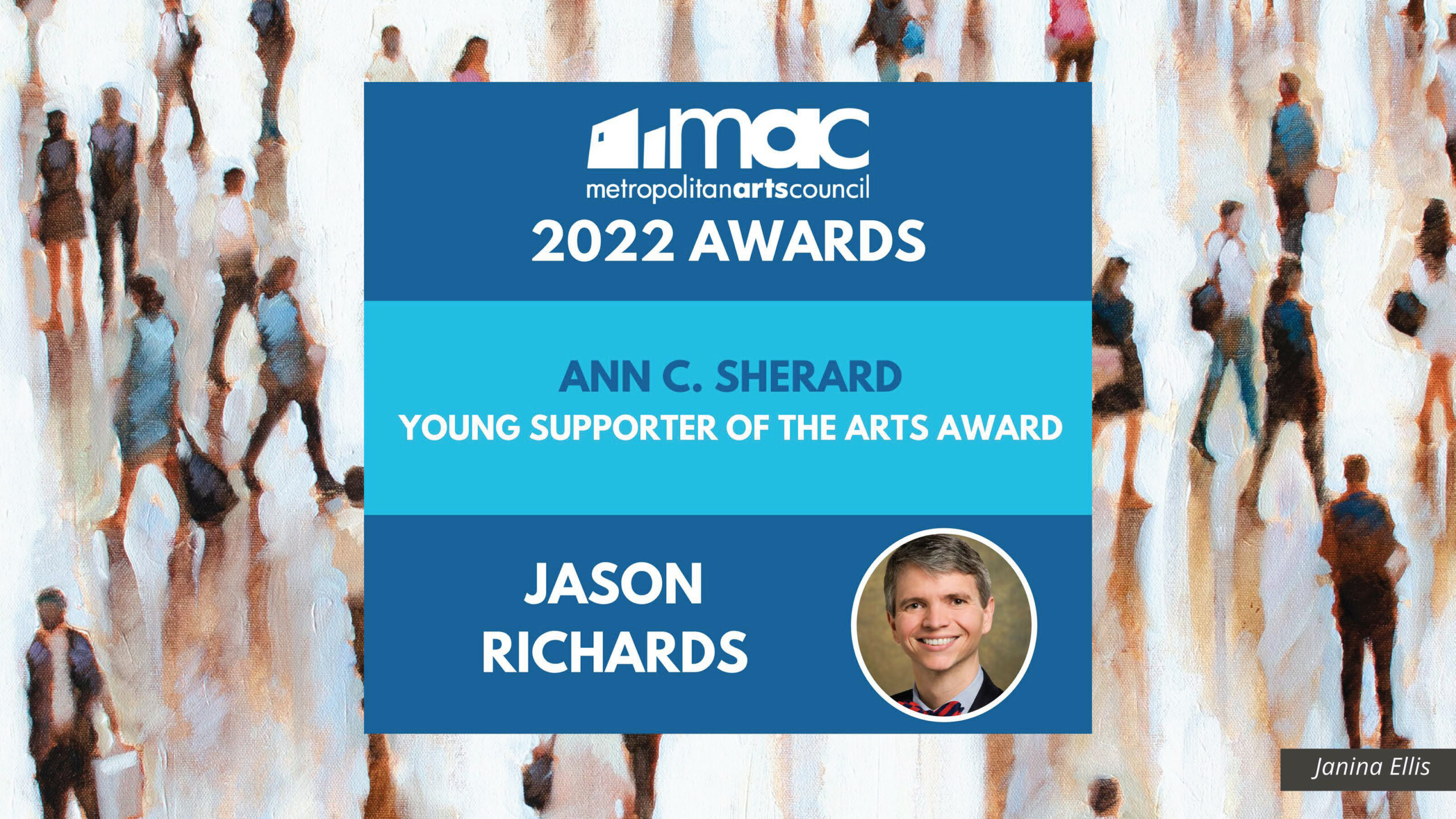 In 2016, we said goodbye to one of our most dedicated and loyal supporters – Ann C. Sherard. She had been a mainstay of support for MAC and its many programs and services. Ann was always concerned about ensuring that the younger generations were involved and engaged in the arts. Many times she would ask us, "That's a great idea, but how are you going to involve the young people?" Ann was very excited about our MAConnect program for young professionals that was established in 2014. We are please to name our Young Supporter of the Arts in her honor. The recipient of the 2022 Ann C. Sherard Young Supporter of the Arts Award is Jason Richards.
A native of Louisville, KY, Jason is a 2001 alumnus of Furman University where in majored in political science and was inducted into Phi Beta Kappa. After several years in non-profit organization management, Jason joined NAI Earle Furman as Chief Operating Officer. He is now Global Business Director, focusing on business development, strategic planning and acquisition. Jason remains very active in the community, and he has served as chair of the United Way of Greenville County, Pendleton Place and the Greenville Police Foundation. He has also served on the Board of the Greenville Symphony Orchestra, where he was instrumental in providing leadership and strategic thinking to guide the organization through the pandemic successfully. He and his wife, Marie, have been major donors to several arts organizations in Greenville, including the Greenville Symphony and MAC. The couple are members of MAConnect, our young professionals program.
MAC Lifelong Support of the Arts Award
Winner: Betty Farr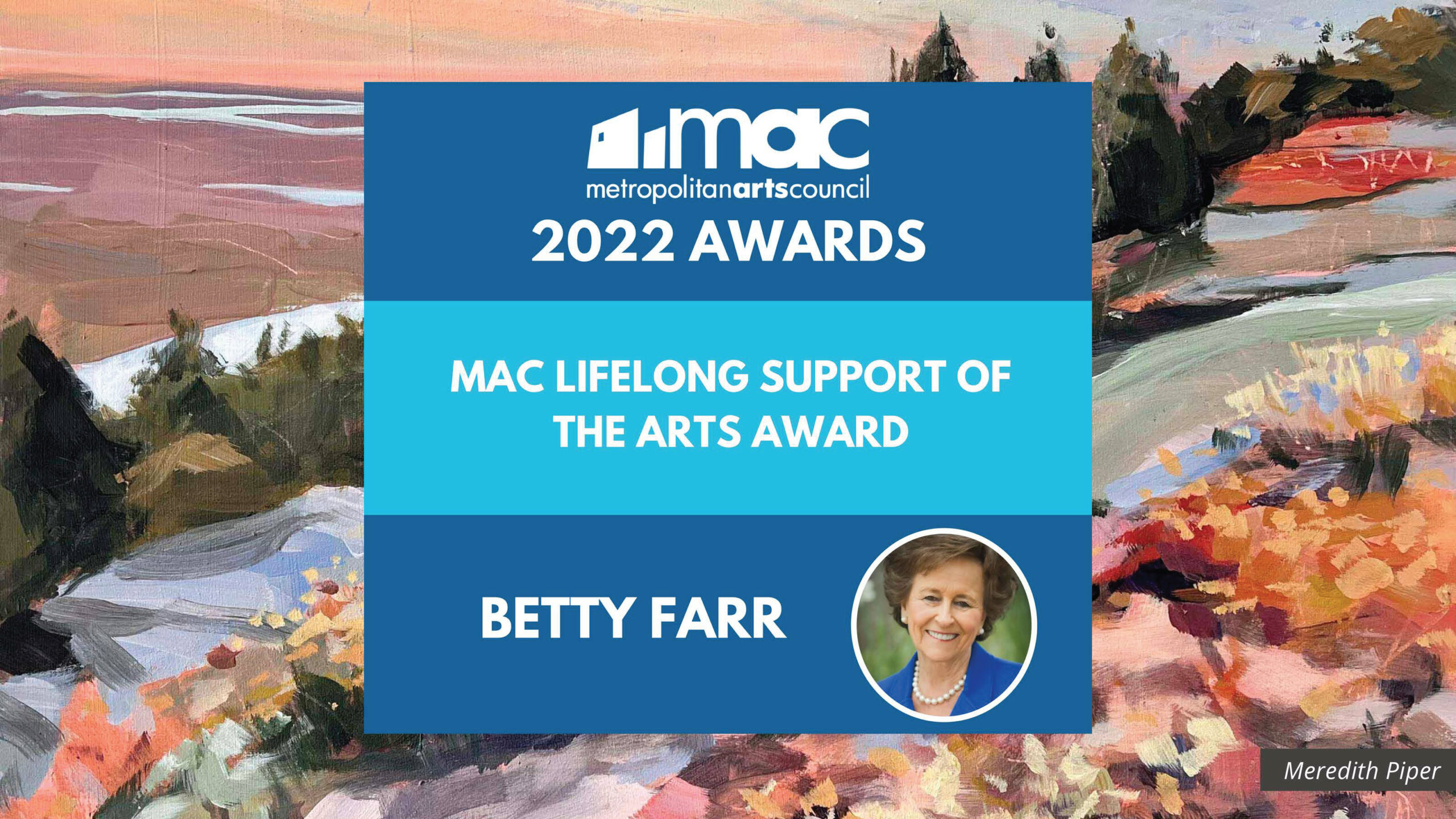 A native of Greenville, Betty Farr has spent her entire life positively impacting others in this community. She has served on numerous boards throughout the area, and she has been involved with many charities in our community. A committed devotee to childhood education, she has been a passionate advocate for arts in academia as evidenced in her involvement at the South Carolina Children's Theatre and the Children's Museum of the Upstate.
Betty has received many honors for her involvement in our community. In 2003, she was recognized by our state by receiving the highest honor that can be bestowed to a civilian, The Order of the Palmetto for her commitment to child welfare and literacy and the arts throughout her life.
Betty started Betty's School of Dance in Greenville which had a very successful run while she was in her 20s. As a young mother, Betty began storytelling at Augusta Circle Elementary School with her friend Bette Waters, who played the piano for the tales. Since then, Betty has evolved into a renowned storyteller throughout the state, going to schools, nursing homes, hospitals, home bound individuals and community organizations. For over 60 years, she has been dressing in costumes to entertain her audiences.
Betty has been an avid advocate of the arts in Greenville for many years – she has generously supported Artisphere, Children's Museum of the Upstate, Metropolitan Arts Council, Peace Center, the South Carolina Children's Theatre and South Carolina Governor's School for the Arts and Humanities, along with many others.
Betty is the mother of seven children, grandmother to fifteen, and great-grandmother to eight with two more on the way. Betty was once asked what her favorite part about living in Greenville is. She responded, "All of the opportunities that Greenville has to offer with the arts, museums and theaters and all the charitable opportunities." We couldn't agree with her more.
C. Dan Adams
Anonymous
Katie Bolt & Chres Rainey
Brotherton Foundation
Leesa and Chris Brotherton
Carrie Burns Brown
Karen & William Brown
Alex & Larry Burgamy
Campbell Young Leaders
Canal Charitable Foundation
Rosa Eisenstadt
Edith & William Hardaway
Joan & William Herlong
Bunny & Bob Hughes
Velda & Jackson Hughes
Mary & Stuart Jackson
Donna & Mark Johnston
Rosalind Lewis-Smith & W. Stanton Smith
Nancy & Erwin Maddrey
Ann Malphrus & John Glymph
Gretta McCall & Richard Lynch
Jessica Pardi
Martha & Tracy Pellett
Nancy & Rick Pennell
Megan Riegel
Nancy B. Stanton
Sharon & Jerry Youkey
BMW Manufacturing Company, LLC
Clemson University MBA Program
Don & Zelma Waggoner Foundation
Fetch, Inc.
The Greenville Drive
Hollingsworth Funds, Inc.
Laura & Bill Pelham
Piedmont Natural Gas Company
SEW-Eurodrive
South Carolina Arts Commission
Duke Energy Foundation
Carrie and Skip Gordon
John I. Smith Charities, Inc.
Jolley Foundation
Linda Kelly – Mice on Main
M. Ellis Pearce
Prisma Health
TD Bank
TD Charitable Foundation
Zan Wells – Mice on Main
Fred Collins Foundation
County of Greenville
The Peace Center
Pelham Architects, LLC
South State Bank
Janette W. Wesley & Renato Vicario
MAC Endowment for the Arts
Elbert W. Rogers Foundation
Pat & Don Kilburg
Elizabeth Marr Lee