Flat Out Under Pressure (FOUP) is a 24-hour artmaking juried event that selects eight winning artists to have their work professionally recreated on the front and back of the eight sponsored recycling bins in downtown Greenville for the following calendar year. In addition to being included in this outdoor gallery, the selected artists will also receive cash prize amounts up to $1000, including a week-long trip to Italy for two to stay in the beautiful Villa Sant' Andrea for the first place recipient.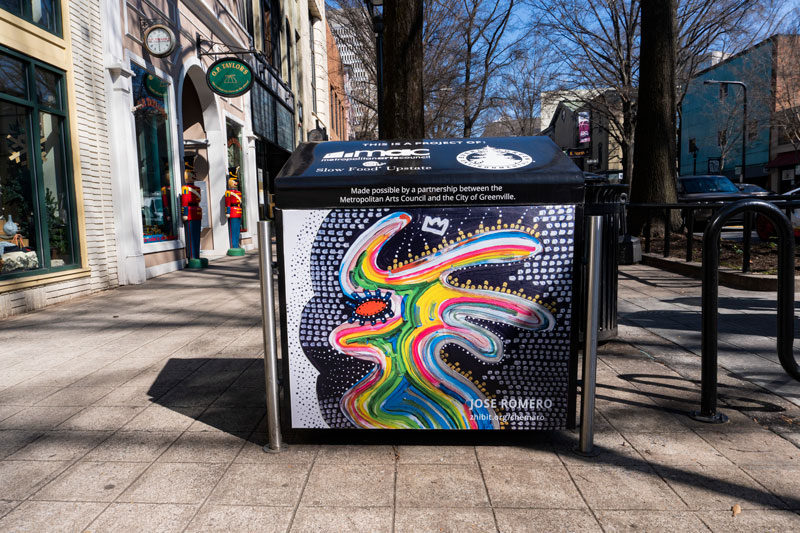 Interested artists who live in Greenville County or within a 15-mile radius of downtown Greenville must complete and submit the accompanying application to MAC by Friday, June 2, 2023. New artists' portfolios will be juried. Accepted artists will participate in the event from the morning of Friday, June 9, to the morning of Saturday, June 10, 2023. The submitted work will be juried Saturday afternoon and the winners announced at an awards reception held that evening. Selected artists will work with MAC to determine works to be reproduced on the recycling bin. (It does not have to be the work produced during the 24-hour event.)
On Friday, June 9, 2023, from 9:00–11:00am, accepted artists will check in at the Metropolitan Arts Council to register their unmarked surface(s). Artists may register up to 5 surface(s) but only ONE work per artist may be submitted for jurying. The work must measure no more than 30 x 30 inches, including the frame. Volunteers will be present to stamp the back of the blank surface verifying that no prior marks have been made on the surface. Artists will have 24 hours to create art on their registered 2D surfaces. The next morning, Saturday, June 10, from 10:00 – 11:00am, event officials will be at MAC to accept the completed works. That afternoon, a professional juror will jury the work, and the winners will be announced that night at the reception.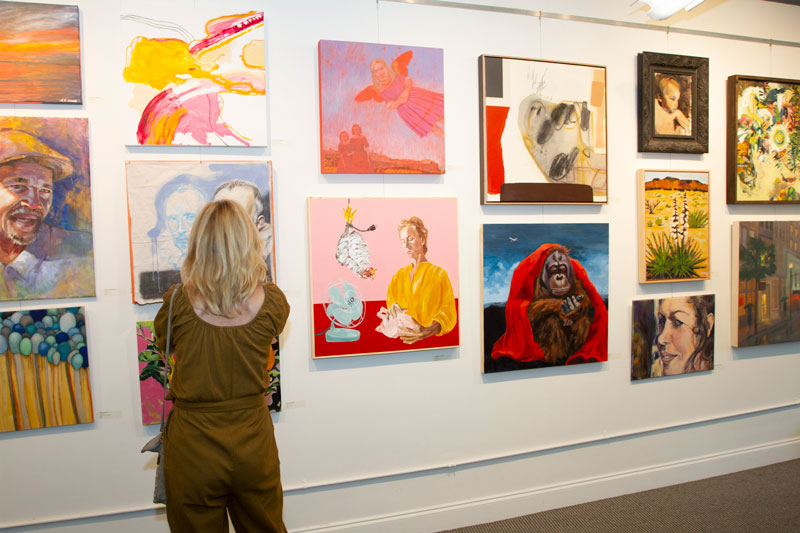 Artwork Categories & Submission Requirements
The entries may be any type of 2D media: drawing, painting, print-making, mixed media, relief sculpture or any surface that can be confirmed "blank" to begin. Computer-generated work and photography cannot be considered. Completed works do not need to be framed although works framed or hanging-ready (with wire) will be able to be hung in the lighted section of the gallery. Works on paper should be presented on a sturdy surface such as foam board or other hard surface, if not framed. Due to the 24-hour period, works with wet paint will be accepted.
Award Ceremony Reception & Exhibit
The reception for the artists and sponsors will take place Saturday, June 10, from 7:00 – 9:30pm at MAC. Award winning works will be announced during the reception. All submitted work will be on exhibit in the MAC Gallery until July 14, 2023. All artists are encouraged to be present at the reception and awards presentation. Due to the nature of the competition, some paintings may still be wet and should be monitored closely so that the public does not touch the artwork. MAC will not be held responsible for damages.
Fees & Portfolio Submission Requirement
The application fee is $24.00 and includes the registration of ONE surface. Additional surfaces—up to 4 more—can be registered and paid for before or on Friday, June 9 when the blank surfaces are brought to MAC for their registration. Cash, checks and credit cards are accepted. Payments can be made in person or online by following the link at the top of this page to the Application Fee Portal.
New applicants will be asked to upload a portfolio of 5 works via the online application. Artists who have previously participated in Flat Out Under Pressure or Greenville Open Studios DO NOT need to provide a portfolio.
QUESTIONS? Contact the Metropolitan Arts Council at 864-467-3132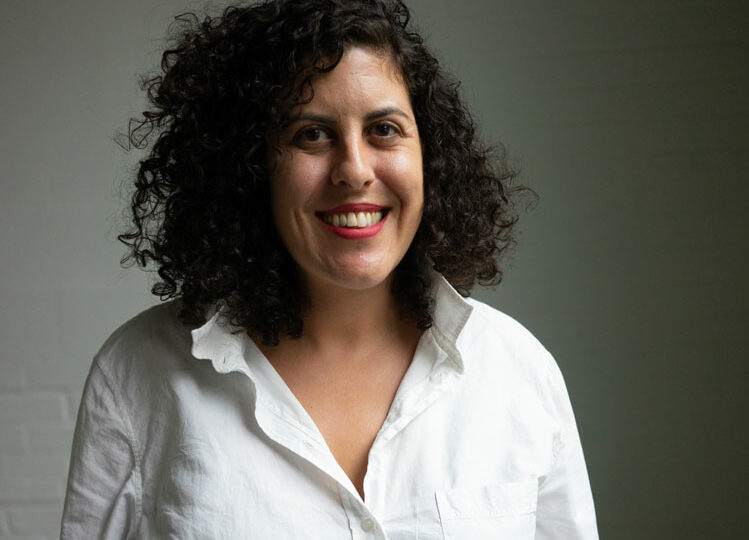 Dr. Katie Geha is the Director of the Galleries at the Lamar Dodd School of Art at the University of Georgia. She recently opened up a new contemporary art space affiliated with the University of Georgia, The Athenaeum, in downtown Athens, GA. Geha regularly teaches art history courses on contemporary art, curation, and artist's writing. She received her PhD from the University of Texas, Austin, and her M.A. from the Art Institute of Chicago. She has published three exhibition catalogs and her writing has appeared in Artforum, Art Papers, and Burnaway.